THE BEAT HOTEL KICKSTARTER CAMPAIGN
The way that Kickstarter, the crowd-sourcing platform, works means that when people help support your campaign you provide a reward in return.
Filmtrip have a number of rewards from DVDs to advanced screenings through to private messages from the legend Rusty Lane.
But they're also offering something unique. The Filmtrip producers of 'The Beat Hotel' have been making electronic music under the moniker of 'Men In Speedos' since 1997, and are releasing their new album as part of the rewards for supporting the Kickstarter campaign.
The album is called 'We Have Moved Beside Neptune Fish Shop' and the tracks included on the album range from downtempo and ambient to techno. As is usual for a Men In Speedos live set and album each track is bridged with ramblings & noises that make the album an end to end listening experience.
You might say it's sampletastic. This includes snippets & tracks that MIS made with other musicians from Belfast. The 2nd track 'World Distortion Bomb' was recorded with Belfast rapper Gaffer, one of 2 tracks that he made with the lads, and is a track that only exists in the form that you now hear it as all of the parts were lost in a hard drive failure a couple of years ago.
The 3rd track was made with Penny Nixon, and again MIS have made other tracks in the past with Penny, 'It's always a privilege to have Penny's amazing vocals accompany our bleeps & squeaks', says Gawain. You can find out more about her latest band 'Die Cherry' here :
http://soundcloud.com/shanokee
https://www.facebook.com/pages/Shanokee/259425077650
There is also the remix created for Moody B's label Council House Recordings. It was a remix of a track by Slovakian techno producer Damolh33 that was signed by Moody B and released on Beatport earlier this year. Moody B has kindly let MIS add this track to the bunch that are being given away for free, so please support his label.
http://www.councilhouserecordings.com/
A selection of tracks at a time will be provided as part of the rewards and if people like the first set the hope is that they'll go back for more, and help get the campaign closer to it's goal.
During the campaign Filmtrip will be releasing a weekly demo of an MIS track for people to listen to help support the Kickstarter project.
At the end of the campaign MIS will also be releasing a selection of the samples used for each track allowing people to use the samples and tunes in any way they want.
TRACK LISTING :
1) Drum Roll Bitch
2) World Distortion Bomb : Belting It Out by Gaffer
3) Shout To Them All : Mouth Noises by Penny Nixon
4) Acid Lead Turntable
5) I Don't Wear Them
6) Original Wave
7) Animals In The Background
8) Private Friend : The Pure Lifted Mix
9) Godkiller Truverb
10) Two Step Aliens
11) The Latest Tech Release
12) Dirty House (Men in speedos lycra mix) : Damolh33 Remix on Council House Recordings *
13) Techno Addict
* This track belongs to Council House Recordings and Moody B is letting us stick this out so we're gonna let him keep his parts for himself
Here's a couple of the tracks from the album :
Animals In The Background
MEN IN SPEEDOS - Animals In The Background by redlabelrecords
The Latest Tech Release
MEN IN SPEEDOS - The Latest Tech Release by redlabelrecords
MEN IN SPEEDOS
Men In Speedos is made up of Shane McCourt and Gawain Morrison. There used to be a 3rd man Derek Jones, but he needed to top up the blonde streaks in his Sunkist hair so he ran away to Australia. They've been making electronic music since 1997, been involved with the clubbing scene, and been dabbling in sound and film since then.
Shane and Gawain met at a new year's party in 1997. The call went out for an amp and Shane said he had one and Gawain said he'd help him get it. Gawain had just returned from a couple of years travelling and was wanting to get back into making some music, and when he walked into Shane's studio he thought that Shane could be the man to do it with. Shane wasn't so sure.
Pretty much since then they have met every week in the studio to bleep. They have scored short films, made music videos, mastered film soundtracks, made sound installations, and in recent years played live sets around Belfast clubs. But their main love is making their own sounds in the studio.
They began making music at the same time as Gawain was promoting the weekly club night 'Evolution' that was held in the legendary Vicos, in Belfast. This night ran for 5 years from 1997-2002 and shared the city's extraordinary club scene at the peak of the dance music era. It was 3 small floors of techno, house & hip-hop and it was here that some of the biggest DJs in the world experienced the unique energy that Belfast clubbers exploded with. From DJ Noize to Ken Ishii, from Claude Young to Stacey Pullen these superstars gave Belfast wonderful nights to remember, and Belfast's DJs regularly turned them into legendary nights.
It was alongside this that Men In Speedos cut their musical teeth, releasing vinyl at Sonar, in Barcelona, getting a phone call from John Peel, and setting up tours for local DJs.
The Men In Speedos style of making music is aleatoric or 'by chance' where they mess about with sounds until they find something they like, then start looking for other sounds & patterns that kind of fit. What they create isn't to everyone's tastes, but they've been making bleepy squeaky noises since 1997, and have been played by such broadcasting luminaries as John Peel, Rob Da Bank, & Belfast's very own Paul McClean.
'We don't tend to make albums, we just make a bundle of tracks, and when we've got enough that we like we take the tracks on a journey with samples and sounds, and this ends up being a live set or an album. This time we're going for an album,' said Shane.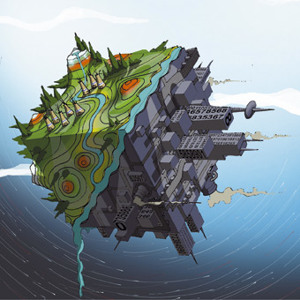 Image from the MIS album 'At A Kalamazoo Near You' by Gareth Morrison
Their music has always gone out under their label Red Label Records with a small number of releases on CD & vinyl over the years.
'We tried running a label with our stuff, but trying to earn money from our music made it a job, and it almost stopped us making music altogether. When we stopped trying to make money it was like we'd got our musical mojo back. It's really quite nice to get into the studio and get taken on a musical journey by the random sounds that come to visit, and for us that's what it's all about,' says Gawain.
In an attempt to stay away from trying to earn money with music they have worked with Belfast-based designers and illustrators creating designs for their t-shirt company Tart, which sold across Europe & USA, then with film-makers & musicians with their short film production company Seamless Productions. And then they settled on starting a production company called Filmtrip, which is now developing a bunch of multi-platform projects, one of which is called 'The Beat Hotel', a comedy puppet show which they're raising finance for at the moment.
The new Men In Speedos album 'We Have Moved Beside Neptune Fish Shop' will be released for FREE as part of a Kickstarter campaign that they're running for 'The Beat Hotel'.
'We really need people's help to get the show made, and since we've just finished this album we thought it would be a nice reward to give it away for free, if people would help us with the Kickstarter campaign,' said Gawain.
All of the tracks & samples will be given away for people to use in any way they wish.
You can hear more Men In Speedos music at their Soundcloud page : http://soundcloud.com/redlabelrecords
FOR MORE INFO :
- On The Beat Hotel : http://www.filmtrip.tv/blog/entry/rusty-lane-101-year-old-burlesque-dancer-to-save-the-beat-hotel/
- On the Mashup Competition : http://www.filmtrip.tv/blog/entry/mashup-competition-for-the-beat-hotel-show/
- On Kickstarter : http://www.kickstarter.com/
CREATIVE COMMONS LICENSE FOR THE MEN IN SPEEDOS ALBUM 'WE HAVE MOVED BESIDE NEPTUNE FISH SHOP' :
Attribution Non-commercial Share Alike (by-nc-sa)
This license lets others remix, tweak, and build upon your work non-commercially, as long as they credit you and license their new creations under the identical terms. Others can download and redistribute your work just like the by-nc-nd license, but they can also translate, make remixes, and produce new stories based on your work. All new work based on yours will carry the same license, so any derivatives will also be non-commercial in nature.